Dear ICQEM2016 Participant,
Thank you for attending the 2nd International Conference on Quality Engineering and Management! I hope that you had enjoyed it!
In this 2nd edition the balance between Quality Management papers and Quality Engineering ones was more clear, thus accomplishing one of the fundamental goals of this conference. Approximately 120 papers have been submitted and almost 85 were accepted for presentation. Attendees have come from all around the world with approximately 20 countries represented at this level, namely – Portugal, Spain, United States of America, United Kingdom, Sweden, Germany, Brazil, New Zealand, United Arab Emirates, Myanmar, Italy, Macedonia, Ireland, Romania, Greece, Colombia, Pakistan, Bahrein and Libya. Therefore, a very warm acknowledgment to all the attendees is well deserved – Thank You So Much! The success of this second edition derived from your efforts and participation!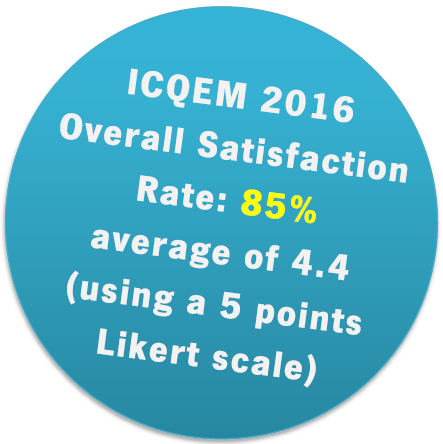 I invite you to see the conference photos gallery (Welcome Reception, Conference_day1, Conference_day2, Tour_and_Dinner).
See you in the 3rd International Conference on Quality Engineering and Management, in Barcelona, in 2018!
Paulo Sampaio, Conference Chair

Conference Co-founders
Paulo Sampaio, University of Minho
António Ramos Pires, Portuguese Association for Quality
Frederic Marimon, International University of Catalunya
Marti Casadesús, University of Girona
Pedro Saraiva, University of Coimbra